Once you've booked a trip, you can see who you'll be traveling with and start conversations with your fellow tourmates in the Go Ahead mobile app. You can swap tips, ask questions, and get to know your group before your tour begins. You can also use the app to message travelers once you're on tour to organize free time activities or dinner plans.
To learn more about accessing and using the Go Ahead app, refer to these articles: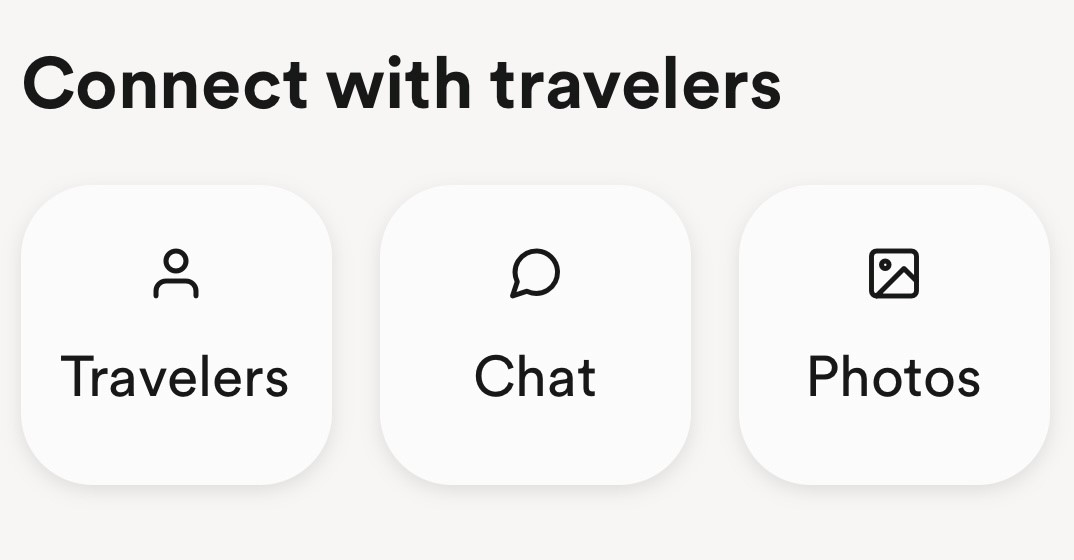 Travelers
Select the "Travelers" icon to view a list of everyone on your tour. This includes first names, last initials, and profile pictures. If you select a specific traveler, you can view their bio (if they created one) and how many Go Ahead tours they've taken in the past.
Chat
Select the "Chat" icon to message all the travelers on your tour who have downloaded and logged in to the Go Ahead app.
There's also a shortcut for accessing all your chat conversations associated with past and future tours. Simply select the "Chat" page (the chat bubble at the bottom of your device's screen). Here you can view your tour's main group chat (which includes everyone on your tour), as well as private conversations or smaller group chats you or someone on your tour initiated.
You can start new conversations by selecting "New chat" in the top right corner of the screen
Next, select your upcoming tour
Check off the traveler(s) you'd like to message
Then, select "Start" in the top right corner to begin the chat.
Photos
By selecting the "Photos" icon, you can view a library of all the photos and videos that have been sent to you in chat conversations for the tour you're viewing. To share photos or videos from your tour with the whole group, navigate to your tour's main group chat (as if you were going to send everyone a message), then select the paperclip icon.
Updating your profile
Before introducing yourself to the group, we recommend customizing your profile by uploading a profile picture and adding a short bio for your tourmates to see.
In the bottom right corner of the app, select the "More" page (you'll see an icon with three horizonal lines)
Towards the top of the page, select "My profile"
Then, select "Edit" in the top right corner
Next, select "Edit photo" to upload a profile picture and introduce yourself in the box provided
Remember to select "Save" in the top right corner when you're done.